WORKFORIT JERKY: The Best Blue Collar Snack?!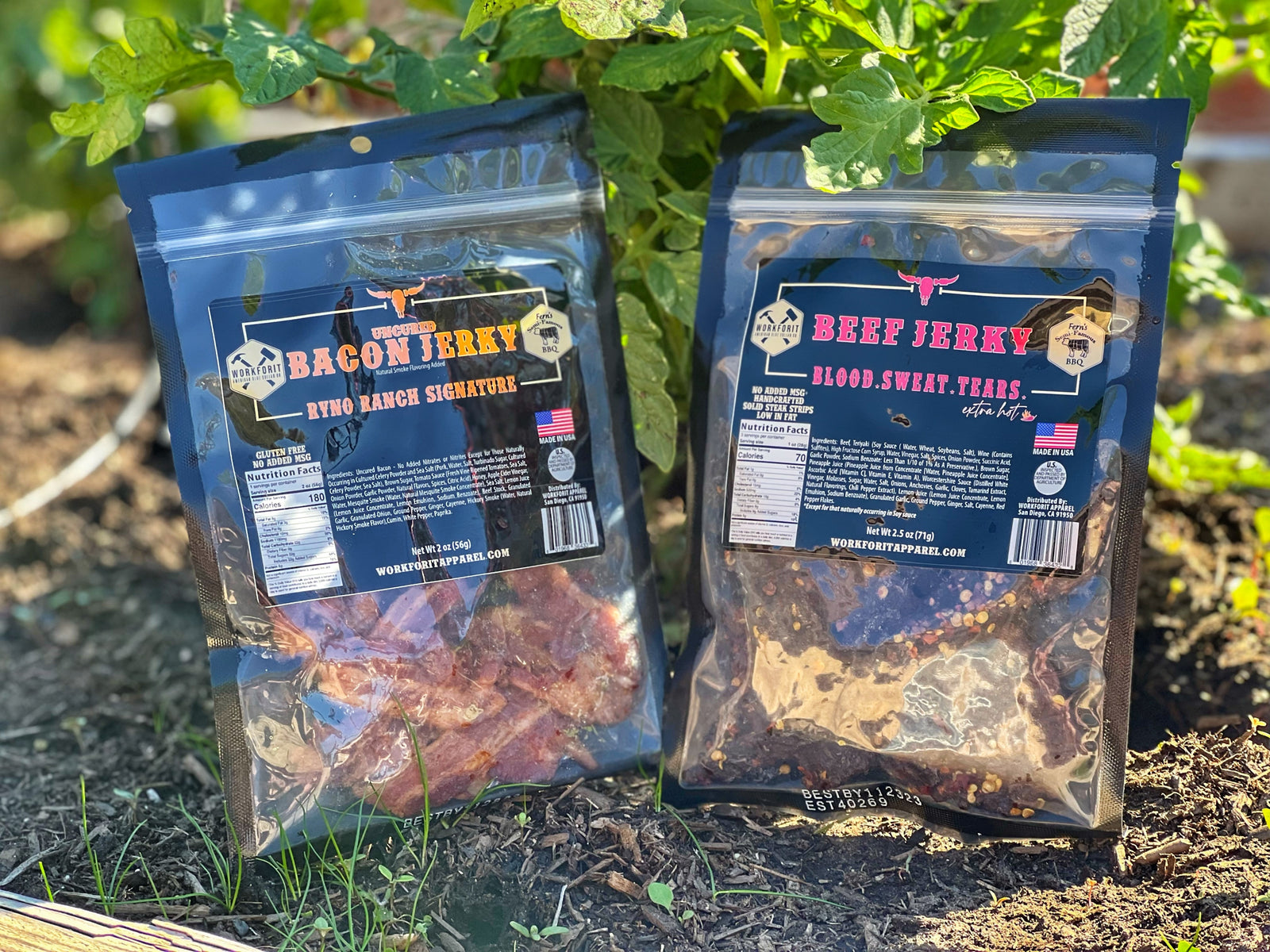 If you're like me, you've spent countless dollars at a gas station or 7-11 on snacks to keep you fueled up for the day. Whether it's to get you through your drive to/from work, or those snacks are meant to get you through your whole day, there's a good chance that if you're in the trades, this is a common occurrence.
I'm probably the most guilty of it as I LOVE to snack. However, I got tired of the crap shoot brands of jerky that you'd find. Each store had the same big name, generic tasteless jerky and then you'd get a few that carried some smaller batch made stuff. Those were always hit or miss and you wouldn't know until you're well into your drive and rip that bag open.
I HAD ENOUGH!
So I sought out to develop the BEST Jerky line for those of us who not only rely on it for a snack, but sometimes our whole meal!
I sat down with the best BBQ chef I know and after months of taste testing and dialing in our meat quality, we had done it! WORKFORIT JERKY was born!
FLAVORS
We have rolled out 2 types so far and plan to launch more in the future. Our first flavor "Blood, Sweat and Tears" is a spicy beef jerky. Not blow up your toilet spicy while praying to the high heavens for it to end, rather, a nice but not overpowering kick that fades off quickly allowing you to eat more without your tongue trying to jump out of your mouth!
Next we sought out to take on the Bacon Jerky market. We've all seen that pink mystery meat "Bacon" that some brands try to pass off as jerky. No thank you! Our bacon not only looks like it was taken fresh off your griddle or grille, it tastes just as good! The "Ryno Ranch Signature" Bacon Jerky encompasses everything you'd want in a slice a bacon with the addition of a smokey bbq flavor. It's been a huge hit!
We've only done a soft launch of our jerky line and have sold out multiple times. The reviews speak for themselves and we're happy to finally have a quality jerky line that those of us in the trades can rely on to always be good!
---
1 comment
---
---